---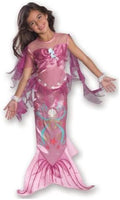 Sale
Splish! Splash! Dressed in this sea-friendly style, it's no wonder why she's such a catch! This Pink Mermaid Child Costume includes a beautifully detailed dress that looks like a mermaid with a sea horse accent on the chest. Your little girl will feel lik
Costume includes a beautifully detailed dress that looks like a mermaid with a sea horse accent on the chest.
Dressed in this sea-friendly style, it's no wonder why she's such a catch!
Your little girl will feel like a flowing mermaid in this one-piece pink dress.
This original costume design will have her singing in the sea! Includes polyester Pink dress with shell ands starfish design.
Soft Mermaid fins at feet hide your human shoes.