---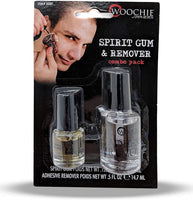 Color:Multi-colored
Our high-quality, waterproof Cinema Secrets Spirit Gum is a long-lasting, skin-safe adhesive for latex appliances. This combo pack includes 1oz of our Adhesive Remover Oil, which makes cleanup of the adhesive residue quick and easy.
SPIRIT GUM & REMOVER: Looking for the perfect costume makeup accessory? Worry no more! This combo pack will be your partner in achieving that professional Halloween look. This spirit gum provides a long-lasting and sturdy adhesion for all your special effects. and it comes with a remover for easy removal of your prosthetics and latex appliances.
FX ESSENTIALS: Detail is everything when it comes to great Halloween FX, and Woochie has you covered with our wide selection of a la carte items. We've got our classic necessities like FX Blood, Luquid Latex and Spirit Gum as well as some new arrivals like Metallic Lip Gloss and Body Crayons. And of course, we've got all the tools you need for the perfect application.
PERFECT HALLOWEEN PARTY SUPPLY: With many different choices to choose from, this will be a perfect supply to any Halloween party! With this, you could have a great party supply at a great price, saving you time and money for preparation.
LATEX APPLIANCES: There's only one company with over 300 latex appliance options to choose from! Bring your imagination to life with our wide assortment of characters, horns, noses, scars, cuts, and much more! Our appliances feature sculpts by Hollywood artists, easy-blend edges and a comfortable wear.
PRODUCT SPECIFICATIONS: This package includes (1) Woochie FX Essentials Spirit Gum & Remover - Professional Quality Halloween and Costume Makeup Accessories.